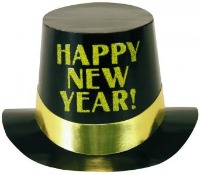 Every New Year's Eve at my house was basically a repeat of the year before. My parents were creatures of habit and had no expectation that January 1 would be any different than December 31 or March 12 for that matter. Nevertheless, they did try to create their version of a party scene which generally commenced around 9pm and ended at 12:01am until they realized we could start celebrating at 10 pm and wrap it up by 11:15 pm or earlier if we ran out of food.
I might have created high expectations for New Year's Eve because this was the seasonal holiday that Cha-Cha's family celebrated and every year in the 70's they partied on New Year's Eve like it was 1999. After most of the other kids had already broken or lost half the playing pieces from their recent Hanukkah and Christmas gifts, Cha-Cha was still waiting around for her loot which was kept under the tree until December 31. Between December 25 and December 31, I was frequently invited over to inspect her gifts by holding, measuring, and shaking them and taking educated guesses as to what might be inside the packages. For a kid who faked getting gifts, I was pretty good at guessing other people's gifts or at least I could figure out the difference between a new shirt, a record album, and that bottle of Love's Baby Soft that every 11-year-old girl hoped to receive as a gift and reeked from for years to come. I was allowed to stay at Cha-Cha's house until the early evening, at which point I needed to leave so her family could prepare for the evening's festivities. By 9 pm, their house basically resembled a nightclub; the bar was stocked and everyone changed into their fancy clothing while her mom blasted music that she was already dancing to.
Meanwhile, back at my house, dad had changed into his wife beater undershirt and mom was wearing a slightly more festive version of one of her housecoats with slippers. While the vibe at Cha-Cha's house was 70's style Studio 54, the vibe at my house was 70's style Bowery.
The evening's festivities included certain snack foods that never made an appearance at my house any other time than New Year's Eve. Cocktails were served, but not the alcoholic kind. As a matter of fact, the only time of year I ever even saw my parents drink was New Year's Eve, and even then it was usually a glass of champagne and never a cocktail. Yet the word cocktail seemed to be present in every food mom selected for the occasion. We often had Planter's dry roasted peanuts during the year, but we had to wait until New Year's Eve to get the cocktail peanuts. We ate hot dogs regularly but could only have cocktail franks on New Year's Eve. Mom often made meatballs in tomato sauce, but only on New Year's Eve could we have cocktail meatballs. I think my parents thought that if we were eating foods with the word cocktail in them, we were partying hard. One year, mom expanded the hor d'oeuvre list to include fondue, which she tried to pass off as dinner until January 5 when the cheese and bread supply were exhausted. By the next year we had switched to using the fondue maker to melt chocolate and dip fruit in it. It probably goes without saying that in my house, fruit and chocolate were never mixed on any other day.
For several years, while we had the piano that no one played, mom cleared all the junk off of it and for that one night only created a makeshift buffet table out of the piano top. If we put any food or even a tchotchke with a coaster under it on the piano any of the other 364 days of the year, mom would kill us. But on December 31, she let her hair down for a few short hours to ring in the New Year.
In between eating the fancier mini-sized versions of the same food I ate all year round, I would run into my room to check on Casey Kasem's top 100 countdown that aired on the radio every New Year's Eve documenting the top 100 songs of the year. I made a list of all 100 as they were counted down and tried to predict which songs would make the top 10. In 1975, I  started praying every day from November 1 on that the Captain & Tennille's Love Will Keep Us Together would be the #1 song of the year. This consumed my thoughts from December 20 until New Year's Eve and made it hard to eat or sleep until the big day. I jumped for joy when the song took first place and this was by far the most exciting thing I ever remember happening on New Year's Eve. While most viewed the song as a silly little ditty about love, last time I checked,  the Captain & Tennille were still together, which is more than most people who were married in 1975 can say.
In the early years, before I discovered Casey Kasem and before anyone could pronounce the word fondue, my brother Jeffrey and I would try to figure out ways to create the party atmosphere that seemed so deficient in our home. One year we got the idea to take one of dad's yellow legal pads and tear the paper into hundreds of tiny pieces. At midnight we threw it all in the air and screamed Happy New Year while watching our homemade confetti rain down on us. Dad was amused until about five seconds after midnight when he said, "Happy New Year and be sure to clean up all this pepairluch before you go to bed." The New Year was off to a rocking start with us down on our hands and knees cleaning up our mess and counting down the 364 days we now had to wait for our next cocktail.