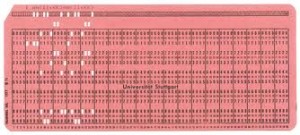 When I was in the 7th grade I took a computer science class. Computer science in 1976 resembled technology today about as closely as Morse code resembles texting (well, actually the differences there are not that extreme). But for the most part, the advances in technology have been monumental, yet it was still exciting to be learning about computers during their nascent stages.
When we weren't busy creating "if yes, then" flowcharts or punching zeros and ones on our blue computer cards, our teacher showed us movies about technologies of the present and  future. We saw examples of computers that were  so big they probably wouldn't have fit inside Alexander's department store and we learned about computer scanners that would one day be used at store check out counters to track inventory. In one of these films, the prediction was made that one day everyone would have their own portable phone, which was preposterous to me. First of all, wouldn't they run out of number combinations in about a week and second of all, did I really need to deal with a phone cord that would constantly get tangled up in all the other shit I kept in my bag, which by the way would now need to be a really big bag because a phone weighs like five pounds.
In addition to having portable phones, these phones would have both voice and picture. This was all well and good when it was depicted on the futuristic cartoon The Jetsons, but did I really want this in my actual life? How  would I lie to my parents about where I was if I was ever lucky enough someday to have the sort of social life that warranted fabricating my whereabouts? (by the way, that day never came)  What if I had told a friend I couldn't hang out because I was home sick and then got a call from this friend where she could see I was actually at the Queens Center Mall with someone else? Would this technology make us all painfully honest with no hopes of ever getting away with anything? Count me out.
In addition to not being able to fathom some of these new technologies, many existing technologies changed over the years in a way I never thought was possible. In 1974 my brother got a Texas Instruments hand-held calculator from our grandparents for his Bar Mitzvah. At the time, this calculator was as cutting-edge as  Google Glass is today (except for the fact that the calculator actually worked). Calculators were very expensive then and the assumption was they would always be so. Last time I checked, you could get a fully functioning calculator for something like 99 cents at Staples.
When Pong came out in the 70's, I never expected the explosion of video games that would follow and always assumed everyone would be happy just hitting that little electronic ball back and forth until the end of time. Who knew we'd soon have games to help us learn math, improve our golf stroke, guide simulated people on how to manage their lives, become experts at killing people, and basically eliminate any form of human interaction with anyone ever.
Right around 1980, the Walkman was released in the US. I'd never imagined having a portable device for listening to music and once I got one I took it everywhere, even though it wasn't exactly lightweight and its portability was questionable. Luckily, the first mobile phone that wasn't the size of a brick was still a god ten years away, so I never had to carry both at the same time or invest in a handbag with wheels.