After being a city girl for 30 years, I seem to have repressed some of the things that make Queens life different. And while I realize that these things aren't exclusive to Queens, many are rarities in Manhattan and I'm fully enjoying having these peculiarities, annoyances and small miracles back as an everyday part of my life.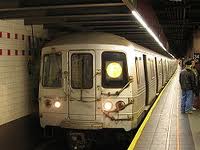 Fireflies. I've seen five fireflies tops my entire time in Manhattan and only in Central Park. During the summer in Queens I see them every night.
Grass in between the cracks in the pavement. Stuff can grow in there? Who knew?
Telephone wires. For the most part, telephony infrastructure in NYC is below ground. But in Queens I'm once again treated to telephone wires with perched pigeons, a flailing plastic bag, and an old pair of sneakers adorning them.
Airplanes. NYC's two major airports are in Queens. And it seems like every plane passes over my neighborhood. Additionally these planes serve as an excellent second alarm on those days I need to wake up early.
McMansions. There was no such thing here when I was growing up, but in the last decade, these super-sized homes, affectionately referred to by the locals as f#$king big-ass monstrosities,  have been on the rise.
Cars that stop at crosswalks. In Manhattan there are street lights on every corner which most drivers and pedestrians ignore. In Queens, drivers stop for pedestrians even when there is no light or sign. Still trying to wrap my head around this one.
Shorter commute. Central Queens is a good 6+ miles further from midtown Manhattan than my previous domicile uptown, yet I seem to arrive at my destination in half the time. For readers who left Queens before 1979: stop bashing the F train.  It is now the equivalent of the Concord.
Cooler air. Is this because Queens is closer to the ocean or because all the air in Times Square is sucked up by the endless parade of Hello Kitty and Elmos traipsing around and demanding ten bucks for the picture you took of them with your own cell phone camera? You decide.
Parking spots. They actually exist in Queens. And you can get one without uttering excessive profanity of giving up your first born.
Red brick. Six-story red brick buildings abound in central Queens. My favorite description of these buildings appears in the book Little Failure along with a description of the Kew Motor Inn,  "the most famous and exotic couples-friendly motel in Queens."
Sky. I prefer a little sky with my skyscraper. Queens provides a nice balance.
Dashes. A good chunk of the borough is on a grid system that uses dashes in the address to identify location. Nobody understands it and it's useless to ask any resident of Queens for directions. Here's proof.
Fallout shelters. Many new apartment buildings were constructed in Queens in the 1950's with fallout shelters in the basements to protect people from a nuclear attack. Of course the children of the 50's knew that hiding under a desk or a picnic blanket provided the same benefit. By the 70's, when I was growing up in Queens, I knew nothing of such things; all I knew was that those cavernous basements  with steep hills made for some damn good knee scraping roller skating, giving the phrase fallout shelter a totally different meaning.
Lawn sprinklers. You don't see many sprinklers in Manhattan because you don't see many lawns. That was easy. I'm thoroughly enjoying the sensation of darting through neighborhood lawn sprinklers and getting a bit of a spritz.
Slate floors. I don't know if I'm using the right term to describe these multi-colored floors you see at the entrance of  many Queens homes; I just think they are neat and they bring back memories of playing on this same type of flooring in the back courtyard of my apartment building  and unfortunately damaging it with some kid's pogo stick that usually broke once we battered a few pieces of slate.
Berry bushes. There were many of these in Queens when I was a kid. Back then we would trespass private property to pick and eat as many of these as we could. Now I just take pictures.
The "offensive public statue." A few years ago, then Councilman Anthony Weiner recommended the city remove a statue in Queens depicting  a nude man standing over two women, claiming it was sexist. Yes, you read that right…Anthony Weiner. Now the area is just a big eyesore. Many residents miss that statue; Carlos Danger; not so much.