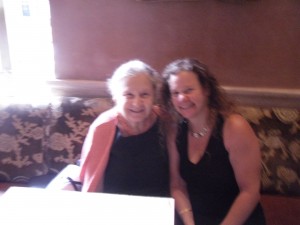 In honor of Mother's Day, I've compiled a list of some of my favorite "mom-isms."
Is he Jewish?
This pot is not for cooking; it's for show.
Leave your brother alone.
We'll see.
Did you send that thank you card yet?
My pants are too tight.
This ashtray is not for cigarette butts.
Ask him.
Your father always makes me laugh.
I like your hair better long.
For my 80th birthday, I want a pair of Jimmy Choo red cowboy boots.
Don't eat your father's cookies.
Let's wait.
I hate this kitchen!
Why haven't you cashed my check yet?
Your father is driving me crazy.
Have you run your Norton Anti Virus lately?
This chair is not for sitting.
You're late!
Let me show you my new boots!
My pants are too loose.
Ask your father.
Let's not.
Because he's the boy.
Everyone gets ONE!
Your hair looks beautiful!
I hate Windows 8.
Your brother said that???
Who put a glass on this table without a coaster!!!
I have too many pairs of boots.
Your dress is so pretty!
Who ate the last cookie?
No sleepovers here.
Everyone out of the kitchen!
Maybe.
You look beautiful!
Someone help me pull off my boots.
I've got to lose weight.
Don't be late!
Again, he's not Jewish?
Because you're the girl.
You're on time!
Yes, you can go there for a sleepover.
This computer is driving me crazy!
Your dad and I are so proud of you.
I've got to gain weight.
Because I said so.
Look at my new kitchen!
Who cares if he's not Jewish?
For my lovely mom and all the moms out there, Happy Mother's Day!