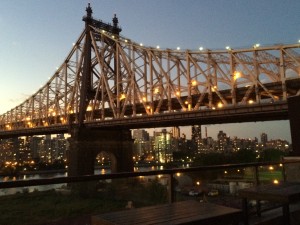 Thirty years ago, I moved from my hometown in Queens to an apartment on Manhattan's Upper West Side. I never really intended to live in Manhattan, but once I graduated from college, I knew I wanted to begin the next chapter of my life living away from my parents. My friend Susan wanted to get an apartment and live on her own as well, and since she proved to be such a great friend back in junior high school when she courageously put my well-being ahead of her own by uncoupling me from my possessed germ-ridden retainer that had attached itself to my shirt, I knew she would be an outstanding apartment-mate.
We began searching for apartments in Queens, but through a family member, Susan was able to get us an apartment on the Upper West Side where we could pay a fraction of the rent most people paid. So after five weeks living at home following graduation (which for me felt like four weeks too many) we packed up our stuff and moved. I took an assortment of mismatched furniture from my house including the bed and dresser that were part of one of mom's HGTV moments years earlier and the coffee table that never fit anywhere in the house and ended up in my room along with the rotisserie. We found two guys with a U-Haul and they brought us and our stuff to Manhattan. I have no recollection of packing or unpacking for that matter, but the trip across the bridge that day, when I was just shy of my 21st birthday, is seared in my mind and I still remember the excitement I felt.
Just a few days after we moved in, my friend Liora's father asked me to take care of the family dog Dandy while he went to visit Liora who had moved to Argentina. What I didn't know at the time was that Dandy was 17 years old and blind. After a few seconds in the apartment, Dandy walked head-on into the coffee table and nearly scored a concussion. We had to keep the dog in the kitchen when we went to work just to keep it safe. The poor dog howled all day which probably would cause some concern in a NYC apartment building in 2015, but in the post-David Dinkins, pre Rudy Giuliani 1984 version of New York City, screams, alarms, honking horns, gunshots and howling were all just part of a typical day. Fortunately we managed to make it through the two weeks of howling without getting evicted.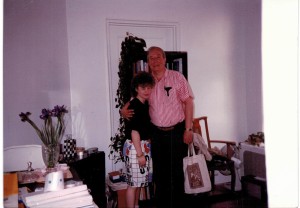 I was definitely right about Susan being a great person to share a space with. Her wisdom far exceeded her age and she asked me the important Jewish mother questions that my own Jewish mother never did. Things like, "Do you see a future with this guy, does he have a job and is he Jewish?" (well actually my mom asked me that last question a lot). And like the daughter who doesn't heed her mother's advice, I generally didn't listen to Susan's either, even though she really was always right.
A few years later, Susan met her husband-to-be and they decided to start their married life in that apartment. I rallied to stay, promising them I wouldn't make much noise, because by now I was attached to my life in Manhattan. She helped me get a studio on the top floor of the same building that was so small that when I pulled out my Ikea futon knock-off, it touched the bookshelf on the other side of the room that was against the wall. But I didn't care because I got to continue my life in the city.
I spent three decades living in Manhattan and watching it go through a sort of renaissance which included hookers in Times Square that were replaced by Elmos in handcuffs, grafitti-covered trains replaced with trains covered in scratchitti and drug dealing playgrounds replaced with family-friendly ones. I witnessed many other wonderful changes. Sometime in the late eighties, sales of sandwich bags in New York City rocketed with the introduction of the Pooper Scooper Law. By the mid-nineties at least one out of every five people you passed on a Manhattan street who appeared to be talking to themselves was actually using a cell phone and not crazy after all.
But now friends and family have drawn me back to Queens and I've made that journey across the bridge again to go back home. This time I had a lot more stuff and while a moving truck transported my belongings, I made the trip back on the F train. And it was just as thrilling as that first trip 30 years ago.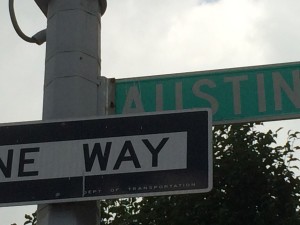 Now I'm reaquainting myself with the infamous Queens grid system. I'm sandwiched in between a road and a drive that share the same number and nestled between two inconsecutively numbered streets. I can only find my apartment building because I can spot the behemoth of a building on Queens Boulevard where I make the turn to get to my own. This nonsensical system leaves me so lost in my new surroundings, yet simultaneously so found. Lost because you can routinely find me walking around in circles, but found because although I don't quite understand the exact geographic coordinates of my new address, I know I am home.
This is where the story began and where it ends. I've done my best to accurately document my formative years while sufficiently embarrassing myself (and others!) and luckily no one has unfriended me (yet). I'm incredibly flattered by the number of people who have followed this blog and shared their own stories of youth and the borough of Queens. If you are ever in Queens, look me up…I'm halfway between the high school's non-regulation track and the store that sells the smelly cheese.