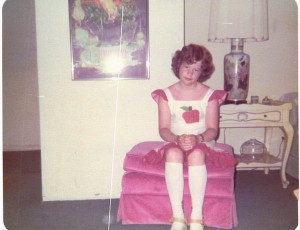 When my brothers and I were growing up, my mother subscribed to all the architecture and design magazines of the day such as House Beautiful and Architectural Digest. Since we lived in a rental apartment, there was little room for architectural anything…we weren't getting a fourth bedroom or granite counters in the bathroom. We had standard issue appliances and fixtures like the 1950's wall oven that forced you to stick your head in it to light it and geometric floor tiles in pink and yellow with matching tubs in the bathrooms. Floors were concrete and required heavy carpeting and we had a galley sized kitchen that could barely fit two small children standing back to back. Nothing would ever be renovated…ever…because we didn't own the space.
Despite this, mom poured over these magazines, dreaming of a kitchen big enough for an eat-in table with a window overlooking the porch we didn't have or the walk-in closet designed to accommodate the shoe collection she housed at the top of her closet that toppled on her head every time she needed a pair of shoes to match the bag she was wearing.
Since mom couldn't renovate the apartment, she did what she decided was the next best thing; fill it up with new furniture. Part of this was out of necessity. Once the plastic slipcovers came off the furniture, around 1973, all of our furniture seemed to implode. The club chairs frayed and the carpet wore thin. Our living room furniture began to look like we owned dozens of cats that were never declawed, but the reality was all this damage occurred from the general wear and tear of a family of five.
Mom's first attempt to decorate on a budget came when she decided to reupholster the existing chairs and couch. She traded in the dark blue fabric for light blue and fuschia, a word that was just as new and fancy to me at that time as fondue. Within six months of use, the fuschia chairs had a thick coat of dirt on them that mom quickly and accurately attributed to dad's pack-a-day habit. Once I saw the damage the cigarette smoke had caused to the chairs I began to realize that the damage to dad's lungs was probably even worse. Following fuschia-gate, mom went back to blue furniture for a few years and moved on to decorate other parts of the house.
When I was younger, my bedroom furniture consisted of stuff that belonged in other rooms, but didn't fit in any of them, so all the misfit furniture ended up in my room. The room contained an interesting assortment of things including a low coffee table with an enormous lamp, a boy's dresser, a television that only worked if you wrapped the antennae around your neck, and a rotisserie, a huge contraption that was pulled out once a year on Thanksgiving. When I entered middle school, mom decided it was time for me to have a proper bedroom and she set out to make the room look just like something out of House Beautiful. She selected French style white furniture and even purchased a second bed, which was odd because she was the mom who hated sleepovers unless they were at someone else's house, in which case they were perfectly fine. She bought bedspreads that were so heavy that the only way to make the bed was to pick up as much of the bedspread as you could, hurl yourself on the bed and hope for the best. If I'd had this level of sports training during my days of punch ball and baseball I surely would have been the best player in all of Queens.
While mom may have had some decorating skills, she was lacking in measurement skills. She bought so much furniture for my room that I could only open the top three drawers of my six-drawer lingerie chest because the bottom three were jammed in so close to the bed that you couldn't even open it wide enough to put a sock in there.
Once my brothers finished college, mom set out on another decorating project and redid their shared bedroom before the ink had even dried on their diplomas. She turned this room into a den, complete with the classic leather couch and humongous book case. She thought she was being practical by buying a couch that folded out into a bed, should one of her sons ever come to visit. But she placed a huge coffee table in front of the couch that was so heavy that splurging on a hotel was much cheaper than the investment you would have to make in the back surgery required after lifting and moving the table so you could open the bed.
After I left home for good, mom turned my room into a guest room/music room. She sold the baby grand piano that once stood in the living room (to make room for other furniture) and she bought an upright piano for my bedroom. Now the piano has been replaced with a desk and computer where my mother constantly makes phone calls to Dell's help desk in New Delhi and I can routinely hear her utter the same curse words I once heard watching her bake her famous but impossible to make, apricot cookies.
Furniture has come and gone in the apartment my mother has rented for over 50 years, but some things have stayed the same. She has never redecorated her bedroom. She has the same furniture my grandparents gave my parents as a wedding gift. And of course the oven that everyone assumed would finally give out sometime in the 80's is still working, so the building's management company won't give her a new one. And those yellow and pink bathrooms have been out of style for so long that I'm predicting that people will be crazy enough to call this stuff vintage in a few years and pay top dollar for it.