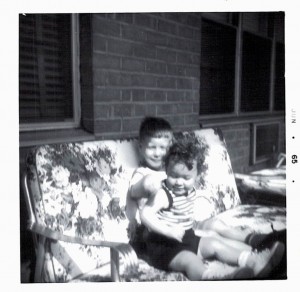 When I was a kid, the terrace was the best part of my house.  Living in an apartment building, there was no sprawling yard to run and play in, no deck or above ground pool, no barbeque  for grilling burgers and corn. But there was a terrace, and for me, spending the summer months out here was the equivalent of  a month on a beach with crystal blue water.
Part of the appeal of the terrace was the fact that the terrace was outside, yet still inside the apartment. You could bask in the sunshine but be just steps away from the phone, the fridge, the television and the bathroom. It had all the comforts of home without actually being in the house.
When we were young, we had a chaise lounge and a glider on our terrace. The furniture was a hideous plastic with an oh so 70's floral print, but it didn't have the same skin ripping effect as the furniture inside with the unforgiving plastic slipcovers. The glider swayed back and forth like a swing and my brother Jeffrey and I would sit on the terrace for hours singing and gliding. Mom always got the chaise lounge where she could lie down; at the time I didn't realize why a woman with three young children would enjoy the opportunity to rest. Silly me.
My father, hardly a man one would call an "outdoorsman," also sat on the terrace frequently. Part of this was due to the fact that after he had smoked his daily pack of cigarettes, he enjoyed a cigar, a privilege that mom would only allow him to partake in on the terrace.  We would sit on the glider together and I would watch and count the cars going down 99th street and the number of planes that incessantly flew over our apartment building on their way to the airport. I would stare at the Archie Bunker houses across the street wondering who lived in them and fantasizing about what it was like to live in a house (to this day I still don't know). Sometimes we talked; often we were silent and just enjoyed the scenery. It was here on the terrace that I learned how to just enjoy the moment and that silence doesn't have to be awkward (well, unless it's in an elevator).
On the Fourth of July, we could sit on the terrace and see a spectacular unobstructed fireworks show from nearby Flushing Meadow Park. In 1977 when the infrastructure of New York City sucked and there was a blackout,  I sat on the terrace taking in the darkness and wondering if there would be vast reports of looting and what Son of Sam's plans were for the evening.
The terrace was also a place for "me time." It provided the closest thing I had to a garden. I planted corn and tomatoes and while I got a few tiny green or mealy tomatoes and a huge stalk with no corn, I still felt a sense of accomplishment for my efforts. It was a great place to blow bubbles and I replenished my supply of bubble fluid frequently. As I got older, it was where I did my dreaded summer reading assignments and suffered reading such classics as Sons & Lovers and Look Homeward Angel; a book that I abandoned after 700 some odd pages because I just didn't give a crap about what happened to any of the characters.
Cha-Cha's terrace was directly below mine and we devised an ingenious communications system via the two terraces. We decided the phone was overrated and that a better method of contacting each other would be to take a hollowed out plastic jump rope and swing it up (or down) to the other person's terrace clanging the hard plastic against the metal terrace railings. Once the signal was detected, the recipient would race out to the terrace to catch the swinging jump rope and speak into it using the greeting we had both agreed on; "one-double nine-three-oh-over" to communicate we were available for conversation. After we got bored of speaking to each other and our ears ached from having a piece of hard plastic shoved inside them, the conversation turned to food and who had good snacks in the house.  Since there was usually chocolate in mine, I perfected the art of hurling bite sized Snickers and Milky Ways down to Cha.  One would argue that her task to hurl treats up to me perhaps required more precision, but she hoisted her imported European jelly-filled sucking candies up to me with apparent ease.
Sometime after the year 2000, a large tree in front of the apartment building that faced the terraces was cut down. The Saxon Hall folklore is that this is where all the pigeons lived and after the tree was cut down they had no choice but to migrate to the apartment terraces. The pigeons are draped all over the terraces and nests have been found on some of the less traveled ones. My family terrace seems to be a favorite hangout and my mom has resorted to acting like a crazy women going out on the terrace and yelling things like "Get the hell off my terrace" as if the pigeons would give a shit…which is actually what they leave before they fly away.
Pigeons or no pigeons, I still love that terrace. It reminds me of a time when people came home and relaxed. A place where there were no cell phones or texts or laptops or social media. A place where you could disappear, regroup, recharge. And a time when sitting next to someone and enjoying the silence was OK. I would give anything to sit next to my father on my terrace in total silence. So every time I visit his house I do just that. And it always makes me smile. The pigeons like it too.