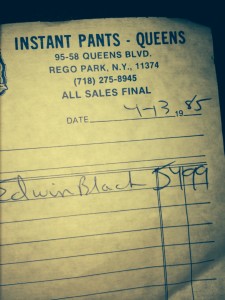 When I was in high school, the best place to get cool jeans in my neighborhood was called Instant Pants. It was a hole-in-the-wall store with shelves of pants that started on the floor and went all the way up to the ceiling. No matter how tall, short, fat, or thin you were, you could always find a pair of pants here. The employees  (over-the-hill hippees that looked like they had just come from a Vietnam War protest) would get an idea of your size, climb a precarious ladder to pull out a pair of the latest Sassoon's, Calvin Klein's, or Jordache's, and voila…instant pants.
In the late 1970's, jeans for girls were all about what was stitched on the back pocket. Guys might wear Levi's Smith's, Lee's or Wrangler's, but girls were all about what design was plastered on their butts. My friends and I would spend hours researching the latest designs…loops, zig-zags, rainbows, etc. to determine what we liked. We'd try on the jeans and nearly pull a muscle trying to see how that design looked on our ass from every conceivable angle. And of course we'd ask each other the ridiculous "How does my butt look in these?" question, ignoring any other indicators of poor fit including the ability to sit down in the jeans without ripping them in two. We often had to lie about how we thought the jeans looked on each other. Sure, part of the reason was to be nice. But the other (and more important) reason was to make sure that your friend didn't get to take home the pair of jeans you were secretly lusting after. For some strange reason, it was perfectly fine for ten girls to show up with the exact same Christian Dior bag (no, I didn't own one), but showing up with the same design on your ass was a good enough reason to try to transfer out of the school.
The other critical component of a pair of girl's jeans in the 70's was the bell. The bell had to be wide; wide enough so that the bottom tip of the pants leg touched the top of your clogs. Yes, this was the preferred shoe of choice until a few years later when bells were out, straight legs were in, and clogs were replaced with Candies, a high heeled clog so dangerous,  they should have come with their own plaster cast and set of crutches.
My mother's favorite thing about Instant Pants was that they offered instant (and free!) alterations. At barely 5 feet tall, it wasn't easy finding jeans that didn't need alterations. Everything in the store looked like it was made for a professional basketball player…there was at least an extra two feet of material that they seemed to be able to cut and hem in a nano-second.
Instant Pants is long gone, but I continue to yearn for them on a regular basis. I'm still only 5 feet tall and I'm constantly on the prowl for petite jeans that don't have to be shortened. Yes, I could go to a tailor and pay money to have this done, but the thrill of the instant alterations is hard to replace. So as an alternative, when the pants are too long I just buy a new pair of shoes with a heel high enough to compensate for the extra inches of fabric. My solution to the demise of Instant Pants is instant shoes which has become an expensive habit in itself.
It's probably a good thing that we are no longer interested in the stitching on the back of our jeans. Calling attention to your ass in 1978 is a very different story than calling attention to that same ass in 2013.