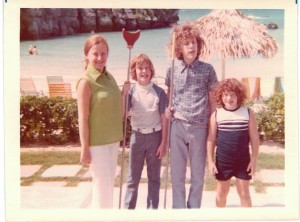 Shortly after my fifth birthday, my mom enrolled me in a summer day camp. Mom put me in a group of campers that were mostly four year olds, perhaps to give me a possible height advantage that I could never reclaim at any other point in my life. But her plan backfired. When I told my fellow campers that I was five, none of them believed me. One girl said, "You're not five, you're four." Another girl boldly proclaimed, "You're not five, you're three!" Another girl claimed I was two, the next said one and the final girl who was just a bit meaner and cleverer than the others said, "You weren't even born yet!" At the time the words really stung and I continued to be annoyed when people thought I was younger than I actually was until about ten years ago when I decided to just keep celebrating my 29th birthday over and over again.
Another source of embarrassment was my inability to walk in flip-flops during our two daily treks to the swimming pool. While everyone else glided effortlessly in their flip-flops, I shuffled along like I was on a Nordic Track just to keep the damn things on my feet. I was never successful and would fall so far behind in the line that they had to send out a search party to find me. Walking without shoes was not an option, because much of the campgrounds were covered in wood chips of a similar size and texture to the glass shards that blanketed the Saxon Hall playground. Since I was a flop wearing flip-flops, I was given an option far worse than walking barefoot on glass; walking in slide sandals that were the footwear of choice for old Russian men. After that summer, I begged my mother not to send me back to camp again.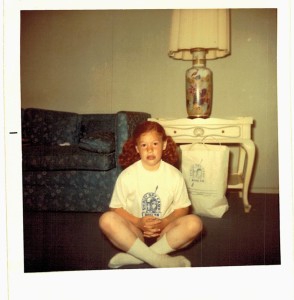 A few years later, I decided to give camp another try and I went to a new camp in Long Island. This was a far better experience and it was here that I improved my swim stroke and learned how to dive. But it wasn't all marshmallows by the campfire and pony rides; it was here that I also discovered a whole bunch of other stuff I suck at. A few times during the summer, we got to go to the go kart area. Getting the gas and the brake right while steering proved too much for me and after nearly mowing down a group of fellow campers and two counselors, I was asked to just sit and watch the other campers. Note to everyone still trying to figure out why I don't drive: Now you know.
Another camp activity I sucked at was making things with lanyard. Whether it was the zipper, Chinese staircase or butterfly stitch, I just couldn't get the hang of it and just like the abandoned bookmark that defined my second grade experience, I left camp without ever finishing a lanyard project. Fortunately, lanyard was an activity generally reserved for the 35-minute bus ride home, so only a select group of campers got to witness my lack of digital dexterity which kept the teasing to a minimum. Unfortunately, I was the last kid dropped off the bus every day which meant I suffered with my lanyard in silence the last few extra minutes of the ride when on three out of four days of the week the bus driver's radio blared Gilbert O'Sullivan's summer hit, Alone Again Naturally at the precise moment the second to last camper stepped off the bus.
That same summer, my family took our first (and only) official family vacation, unless you count what dad referred to as our annual six hours of hell on Amtrak. I got to go on an airplane for the first time and we went to Bermuda. We stayed at our first (and only) big fancy hotel without the words Holiday or Inn in the name. The hotel was right on the ocean and we got to rent water rafts while my father who couldn't swim sat under a huge beach umbrella, liberally applying the 1973 version of Coppertone which offered about as much protection from the sun as whipped cream. When we exited the ocean, guests were required to soak their feet in warm water to remove the tar that was stuck to them. At the time, we kids thought this was just another cool feature of the beach; we didn't realize the tar was petroleum residue from a 1973 oil spill off the coast of Bermuda. Now I understand how we were able to afford the trip.
While we loved the beach, the hotel had something we loved more; a game room. Prior to our trip to Bermuda, the closest thing we'd ever seem to a hotel game room was the ice machine at a motel in Altoona, PA. But now we had pinball and ping pong! We spent hours in the game room, which is probably how three kids with the pastiest white skin ever avoided getting a sunburn on a tropical island.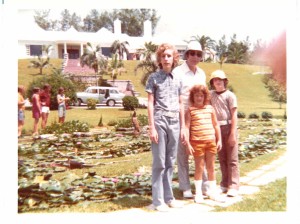 Another highlight of the trip was the hotel restaurant. In our real life we ate dinner out once a year. But in our vacation life we got to eat out every night. My brother Jeffrey decided to take full advantage of this and managed to order the most expensive thing on the menu each night. Additionally, many of the dishes he ordered involved fire. When he ordered the Flambe Cherries Jubilee for dessert, cooked right at the table, the nearby wall caught on fire and after that we were only allowed to get ice cream for dessert.
Many of my summers were spent just doing things in the neighborhood. While now we have the fancy term staycation to describe vacationing without going anywhere, back then we called it what it was; hanging out with your friends, often being bored out of your mind and getting into all sorts of trouble. Some of the most dangerous things happened to us in the summer; we played Ringolevio and hid in ominous apartment building garages that attracted sketchy people. We crossed Queens Boulevard with greater frequency and hung out past dark even when we knew Son of Sam might be nearby. We ate red M&M's before they were banned in 1976, we trespassed on other people's property to pick mulberries, and once or twice we even jumped into the Park City Pool a mere ten minutes after eating a Chow Chow french fry. We watched way too much TV, went looking for poison ivy, risked our lives tormenting our siblings and stepped in enough dog shit to fertilize an 18-hole golf course…twice. We survived all of this and emerged without broken limbs, skin rashes, stomach cramps, blindness or arrest records; just great memories of summer fun.